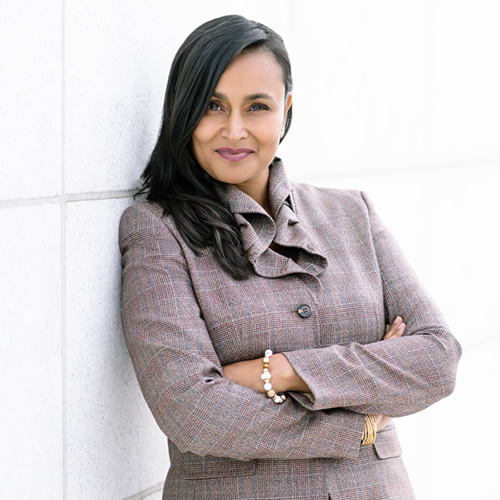 Roots Gadhia
Senior Counsel
Senior counsel Roots Gadhia is a passionate advocate for the underdog.
Roots leads her talented team in representing individuals facing criminal proceedings ranging from murder to domestic assaults, drug offences, sexual and aggravated assaults, and firearms charges.
She appears across the province before the Ontario Court of Justice, the Superior Court of Justice, and the Court of Appeal for Ontario on jury and judge-alone trials.
After completing a combined honours degree in English and Philosophy from the University of Western Ontario, Roots graduated from Osgoode Hall Law School in 1995. She articled at the Toronto firm then-known as Pinkofsky Lockyer Kwinter and was called to the Ontario Bar in 1997.
Following two years as duty counsel in courts across the Greater Toronto Area, Roots opened her practice in 1999.
She was the Criminal Lawyers Association representative for the Metro West Courthouse from 2009 to 2015.
Roots' commitment to defending her clients with passion and integrity comes with a desire to give back to the community. To that end, she volunteers her time, instructing at-risk youth with the Ontario Justice Education Network, LAWS Program, and Mock Trial Coaching at various high schools.
From 2016-2019 Roots sat on the Board of Directors at the Rexdale Women's Centre, an organization dedicated to assisting immigrant, refugee, and newcomer women and their families to become fully participating members of Canadian society.
Roots is a member of the Criminal Lawyers Association and a member in good standing with the Law Society of Ontario.
Back to Our Firm